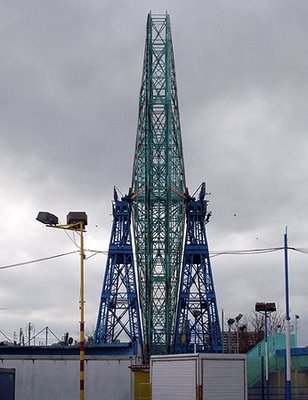 I recently found myself on Coney Island, where the Albert family sold off Astroland to Thor industries who plan to develop a 1.5 Billion dollar all year round resort. We'll see what how the new economy affects this now. I wonder if it will just sit there vacant for years.

When I got there I couldn't help noticing a deafening sound emanating from wind blowing through the observation tower. It sounded like the ghosts of a thousand summers. Click here for the mysterious sound. I guess the road to Dante's Inferno is paved with good intentions. There is something ultra sad and silent about a defunct amusement park in the winter.

Astroland operated from 1955 to last year. I've always found its dirtiness and grunge to define Coney in its way. You'll notice that they took the carriages off the Wonder Wheel for good. There is something naked about it now. It's just a wheel. Both the Wonder Wheel and the Cyclone are supposedly going to be preserved with The Shoot the Freak lot I'd imagine. It was disturbing to see a for lease sign on Ruby's Old Tyme Bar and Grill on the boardwalk. Although I heard it closed on Memorial day weekend when some guy fell ten feet through the bathroom floor into some kind of rat den. Where or where will all those denizens go? All the pictures on the walls? Such good times. Such character you can't buy.



But of course Coney has always been a place for transformations. Here is a hi rez map of Coney from before WWI. This includes Dreamland, Luna, and Steeplechase Parks. This is when they had live elephants walking down the boardwalk and exhibitions like baby incubators and mini villages inhabited by midgets. Click on Map below.
X. F. Pine
UPDATE MARCH 2011:
It appears as though Ruby's on the boardwalk is hanging on by a frayed thin stringlike thread. It will be open for another season. Remarkable.
XFP
UPDATE: LABOR DAY 2012:
Even another update from Labor Day 2012. It appears as though Rubys has been "remodeled" and still exists. Details are in the Chicago Sun Times of course.
Related posts